The Finger Lakes region of New York offers some of the most serene and secluded scenery in the state, making it the perfect spot to bring your camper, rent a cabin, or pitch a tent for the weekend. Take a look at the best campgrounds near Geneva, NY, so you can find your next weekend destination!
5374 Canandaigua Farmington Town Line Road, Farmington, NY
At this site, there's plenty of planned activities and tours available, so you can enjoy all the features of the surrounding areas, especially the Canandaigua Wine Trail! The site features a large lake for fishing, as well as fun activities like a zip line, tree house, obstacle course, pool, mini golf, and jumping pillow. There's luxurious cabins available with full bathrooms for a comfortable stay, and there's even free Wi-Fi at the campgrounds!
1412 Route 14, Phelps, NY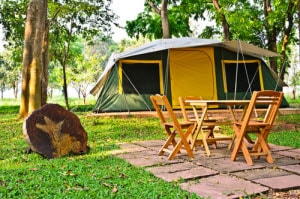 This campground has space for 125 RVs, each with hookups for whatever you need, as well as old-style tent sites for those really looking to get back to nature. Free bathrooms with hot showers are available on site, and there's even laundry facilities to wash your muddy belongings before heading home after your trip. The Canandaigua outlet offers ample opportunity for fishing, and there's plenty of open grass for lawn games. The site offers amenities, including a large swimming pool, basketball courts, and even a game room.
1710 State Route 414, Watkins Glen, NY
For a luxurious camping retreat, you'll want to head to this spot, which offers a huge number of recreational activities, such as bumper boating, a water park, mini golf, outdoor laser tag, a zip line, an indoor pool and spa, and much more. The whole family will find something fun to do here, with options for hookup your RV, pitch a tent, or stay at a Kamping Kottage.
No matter which of the three above campgrounds you choose to visit, you'll be sure to have a great time at each! Make sure to check out the websites and start planning your camping adventure today!