Who would've thought the classic American pickup truck would be the best-selling vehicle in the country today? However, with the variety of features you get with a pickup, why not go for the vehicle that doubles as both a family and job transporter?
Let's take the two best trucks out there: The 2017 Ford F-250 and the Chevy Silverado 2500. These trucks both have amazing capabilities and features. Still, how will drivers in Geneva, Canandaigua, Auburn, and East Rochester know which truck will best suit their lifestyles?  Contact us today to find out.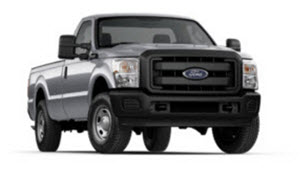 Our team at Friendly Ford has you covered. Read this vehicle comparison of the F-250 and Silverado 2500, and you'll get the details of some exceptional options you'll find in both vehicles, like engine capabilities, towing capacities, and bed length options. Let's get started!
Engine vs Engine: Power & Performance of the F-250 and 2500
Your first thought when deciding on a heavy-duty truck probably has something to do with how powerful the engine is. Fortunately, you won't be disappointed with the standard engines of the F-250 and 2500.
The Ford F-250 comes with a base 6.2L V8 engine that produces 385 horsepower and 420 lb-ft of torque. The Chevy Silverado 2500 follows closely with a standard 6.0L V8 that achieves 360 horsepower and 380 lb-ft of torque.
In terms of fuel economy, the F-250 takes the lead here with a combined EPA-estimated 15 MPG, while the Silverado falls a bit short with a combined EPA-estimated 14.3 MPG. While superb fuel economy isn't necessarily expected with a heavy-duty vehicle, you'll want to keep these numbers in mind when deciding which is the better pick.
Towing and Maximum Payload
You may want to carry a few things around in your pickup-say, some tools, job equipment, a trailer? The towing capacities and maximum payload are critically important to consider when choosing your next heavy-duty powerhouse.
The F-250 has a towing capacity of 18,600 pounds when properly equipped, while the Silverado 2500 comes in at a close second with 18,100 pounds-but with the right equipment. That's more than enough strength to carry around a trailer or boat to your next family vacation spot.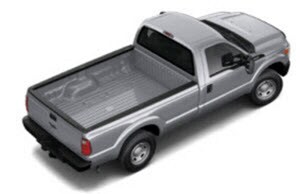 When lugging a thing or two around, there's no need to worry with these powerhouses. The F-250 has a maximum payload of 4,200 pounds, while the Silverado 2500, again, comes in at close second with 3,534 pounds.
2017 F-250 and Silverado 2500 Bed Lengths
If you're able to carry around all of this stuff, you might want to know a thing or two about the bed length options offered in the Ford F-250 and Chevy Silverado 1500.
This is another category where you really can't go wrong with either choice. The 2017 F-250 offers options of either a 6.75-foot or 8-foot bed, while the Silverado 2500 follows with either a 6.5-foot or 8-foot bed as well.
2017 Ford F-250 vs Chevy Silverado 2500: The Results
As you can see, both the Ford F-250 and Chevy Silverado 2500 are impressive options when choosing a heavy-duty pickup truck. However, with the F-250 taking the lead in these categories, we think it's worth checking out for yourself at Friendly Ford.