A crossover is a brilliant way to get through the streets of Geneva, Canandaigua, Auburn and East Rochester. While it has more interior space than a sedan, it lacks the unpleasant bulkiness of a full size SUV. Despite the competitive crossover market, the Ford Escape stands proud as one of the better models.
While the Escape is one of the most rugged and long-lasting crossovers available, it still needs regular maintenance, like all vehicles, if you want to get the most out of it. With our handy maintenance schedule, keeping up with the Escape's necessary services has never been easier. Learn more about the Ford Escape maintenance schedule and discover how you can keep yours in top shape.
7,500 Mile Maintenance
Your primary service will occur after 7,500 miles or about six months. During this service, you will need to get your Ford Escape's oil and oil filter changed and your tires rotated. Remember repeat this service, as well as all other subsequent services, in regular intervals. If you want to stay on top of your Escape's potential problems, service must be regular.
Ford Escape Maintenance at 15,000 Miles
For this service, make sure you get your tires rotated if you didn't last time. You also need to get your engine air filter and cabin air filters changed. Make sure you're keeping an eye on your brake pads. If your Escape is weighed down by passengers often, your brake pads could be worn pretty bad.
30,000 Miles
After 30,000 Miles, it's time to get your tires replaced. While they may last you another six months if you don't drive that often, two years of wear is typically enough time for them to go bad. Also, make sure you get your spark plugs replaced. If you haven't replaced your brake pads yet, now is a great time.
60,000 Miles
This service is a bit more expensive than the others so far, so make sure you're prepared. It's time for you to replace your timing belt and drive belt. Make sure you're checking your hoses for leaks and get your transmission fluid, differential fluid and engine coolant flushed and replaced.
90,000 Miles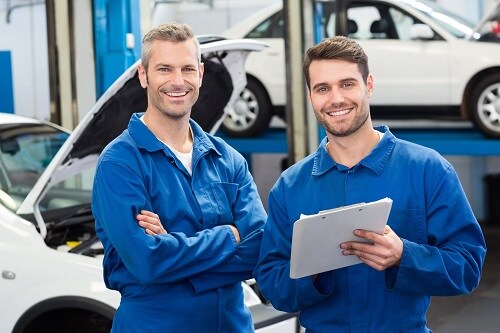 Congratulations on having your Escape for this long! Before you get your engine coolant flushed and replaced again, go ahead and get the entire engine coolant hose replaced. It likely is leaking by this point, and if it's not, it will be soon. Your shock absorbers also need replacing during this service. You aren't forgetting your oil changes, right?
120,000 Miles
This is going to be an extensive service, so have that in mind going into it. Your engine mount is going to be worn by this point, so see that it gets replaced. Your steering and suspension component also need to be replaced.
Ford Escape Service at Friendly Ford
If you're looking for the best place in Geneva, Canandaigua, East Rochester and Auburn to fulfill your Ford Escape maintenance schedule, look no further than the service center at Friendly Ford. Our service center is equipped with the latest tech and staffed by highly trained individuals who know the Escape inside and out, so you can always count on a quality and speedy service. Visit us in person or schedule your service appointment online today!