When you're looking for your next family-friendly vehicle, you've probably come across the 2018 Ford Escape or Chevy Equinox. That's because both of these crossover SUVs are great choices for your daily driving needs, and our team at Friendly Ford is here to tell you why.
In this vehicle comparison of the Escape and Equinox, we'll give you all the details on both rides, like interior features, engine options, fuel economy, and more, so that you can decide for yourself which will work best for you and your family.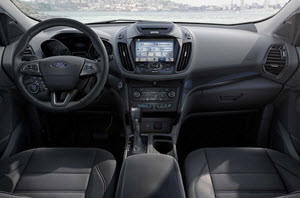 Let's get started by checking out the inside of the 2018 Escape and Equinox…
2018 Ford Escape vs Chevy Equinox: Interior Space & Technology
Interior space and technology are two big categories to consider when deciding on your next SUV. The 2018 Escape and Equinox both offer seating for five, with plenty of space for all passengers - backseat riders included! In both models, you'll find at least 36.8 inches of legroom for your second-row passengers to stretch out.
And if its cargo that has your concern, the Escape takes the lead here. With 34.3ft³ of space behind the second row, you can fit in everyone's sports gear for the next big game. Unfortunately, the Equinox follows with just 29.9ft³ of cargo room.
When it comes to the latest technology, both models are tied here. You'll get great, easy-to-use infotainment systems standard in both, along with available Apple CarPlay™ and Android Auto™ so that you'll always be connected on those longer drives.
Power & Performance in the Escape and Equinox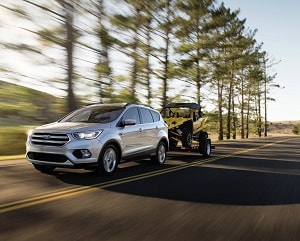 When looking at power in the 2018 Escape and Equinox, you'll find that both models offer three different engine options; however, the Ford Escape offers two turbocharged engines, one that puts out 245 horsepower, while the Equinox's turbocharged engine follows with 170 horsepower.
The Escape and Equinox are also neck and neck with their MPG ratings. Both come in with at least an EPA-estimated 23/30mpg city/highway, so with either pick, you'll be able to zip to your next family vacation without stopping often to refuel.
You'll also be able to pull an extra thing or two around with their towing capacity of at least 1,500 pounds. So hitch up the camper for your next camping trip, and get there with ease with either of these rides.
Escape and Equinox Safety
Finding the right vehicle for your family means prioritizing the safety ratings and features. The 2018 Ford Escape earned a 5-Star Overall Crash Test Rating from the National Highway Traffic Safety Administration, while the 2018 Chevy Equinox followed with a 4-Star Overall Crash Test Rating.
Both models come standard with a rearview camera, and have available assistance features that include front and rear parking sensors, blind-spot monitoring, rear-cross traffic alert, and more!
2018 Ford Escape vs. Chevy Equinox: The Results
Although both the Escape and Equinox are great vehicles to choose as your next family SUV, we really like the Escape's extra cargo room and awesome turbocharged engine option, giving this our pick for a test drive!
If you are in the areas of Geneva, Canandaigua, or Rochester, and would like to learn more about the 2018 Ford Escape, contact us at Friendly Ford today!