If you're looking for a new crossover to take you through the streets of Geneva, Canandaigua, Auburn and East Rochester, the competition is fierce. The demand for these versatile vehicles has increased exponentially over the years leading crossovers to be one of the most competitive classes of car on the market.
Two of the best options available are the 2018 Ford Escape and the 2018 Nissan Rogue. Each of these crossovers have plenty to offer that helps them stand out from the rest, but only one can be right for you. Find out which in our comprehensive Ford Escape vs Nissan Rogue comparison.
2018 Ford Escape vs. 2018 Nissan Rogue Specs
No matter which of these crossovers you choose, you're in for a powerful engine that's sure to get you where you need to go. The base models of each feature a 2.5-liter 4-cylinder engine with plenty of power. However, that's the only option if you go with the Rogue. The Escape features two extra options as well.
Opt for the Titanium trim level and you'll have access to the incredible 2-liter EcoBoost turbo 4-cylinder engine with an incredible 245 horsepower. The most powerful Rogue can only muster 170 horsepower. If you don't want to go all the way, the Escape offers a mid-level engine standard on all but the highest and lowest trim levels that offers 179 horsepower with its 1.5-liter EcoBoost turbo 4-cylinder engine.
Safety
No matter what you plan on using your crossover for, safety should be your main concern. Both of these vehicles are fairly safe, but the Escape outclasses the Rogue in that regard. After extensive crash tests, both of these crossovers earned 4 stars for their rollover rating.
In every other category, the Escape earned a perfect 5 stars while the Rogue only earned 4 stars for frontal crash ratings. The Rogues forward collision detection can prevent a lot of frontal crashes, but wouldn't you rather be prepared should the worst happen? The Escape also comes equipped with forward collision detection.
Capability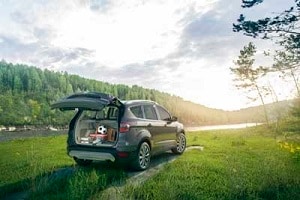 You may not think about towing too often in regards to crossovers, but that capability can come in handy. The Rogue has a 1,000-pound towing capacity which can help you pull a little something if it comes to that, but the Escape was built for towing. No other crossover can match the Escape's incredible 3,500-pound towing capacity when properly equipped. The Rogue doesn't even come close.
2018 Ford Escape vs 2018 Nissan Rogue
While both vehicles in our Ford Escape vs Nissan Rogue comparison performed admirably, the 2018 Ford Escape emerged victorious. With its superior features, the Escape is a clear choice for anyone in the Geneva, Canandaigua, Auburn and East Rochester areas to consider. Get a taste of the Escape for yourself at Friendly Ford where our expert team will be happy to show you what it can do. Visit us in person or contact our team online today!
Get more information on the 2018 Ford Escape. See how it stacks up to the Toyota RAV4 in this car comparison.