Are you tired of not having enough space in your vehicle when cruising around the streets of Geneva, Canandaigua, Auburn, and Rochester? Perhaps you may be suffering from bulky handling instead. Whatever the case may be, you deserve a versatile vehicle that can handle all the cargo you need without being a hassle to drive. A new crossover offers the best of both worlds, but finding the right one for your needs can be challenging.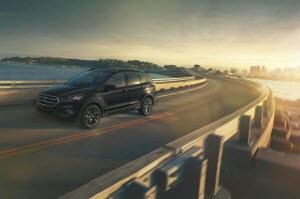 Crossovers have dramatically risen in popularity over the past several years, leading to an incredibly competitive market. That's why we've taken two of the best crossovers available and put them against each other for you. The 2018 Ford Escape and the 2018 Toyota RAV4 are among the best, but only one can be the right choice for you. Learn more about these versatile vehicles in our Ford Escape vs Toyota RAV4 comparison.
Escape vs RAV4: Performance
When you're looking for a crossover, you need one that can perform to your expectations. Both have impressive engines under the hood, but the base models are fairly similar. You'll find a 2.5L 4-cylinder in each base model, but the 2018 RAV4 has no other available engines. Meanwhile, the 2018 Escape features two upgradable engines: 
1.5L EcoBoost® with Auto Start-Stop: 179 horsepower/177 lb-ft of torque
2.0L EcoBoost® with Auto Start-Stop: 245 horsepower/275 lb-ft of torque
The Toyota RAV4 still gets an adequate 176 horsepower, which barely beats the Ford Escape and its 168-horsepower 2.5L engine. Due to having no enhanced engines, though, the Toyota RAV4 can't compete with the power of the upgraded Ford Escape EcoBoost® engines.
Escape vs RAV4: Capability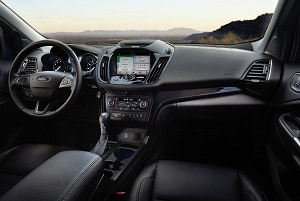 Both crossovers perform fairly well when taken through off-road conditions, but the Escape allows you to bring some extra cargo along. Crossovers aren't known for their towing capacities, but the 2018 Toyota RAV4 can pull up to 1,500 pounds, which is fairly impressive. The 2018 Ford Escape, on the other hand, can pull much heavier cargo with a max towing capacity of 3,500 pounds.
Plus, the Ford Escape has an available intelligent 4WD System. This innovative system monitors traction and road conditions continuously, and transfers torque from front wheels to rear wheels for a precise blend of handling and traction.  With Curve Control and Torque Vectoring Control, your traction and stability is further enhanced, ensuring a smooth yet stable ride on various driving conditions.
The Toyota RAV4 also comes with performance-boosting features, like available All-Wheel Drive and Dynamic Torque Control. Still, it can't tow as much heavy cargo as the Ford Escape while providing the same level of traction and stability.
Escape vs RAV4: Entertainment
Inside the 2018 Escape, you'll also find a state-of-the-art infotainment system. The SYNC® 3 system utilizes an easy-to-use interface with Bluetooth® capability, as well as Apple CarPlay™ and Android Auto™. By integrating your compatible smartphones with the Ford Escape, you can navigate your way around traffic, stream your favorite artists, make hands-free calls, and more. You can also peruse over 150 channels on SiriusXM® Satellite Radio, which includes commercial-free music, news shows, sports updates, and more. 
The Toyota RAV4 comes with Entune™ Audio, an infotainment system with Bluetooth® technology, hands-free phone capability, and SiriusXM® Satellite Radio. However, without the power of Apple CarPlay™ and Android Auto™, you'll be missing out on many useful features and functions.
Which Crossover Should You Drive?
At the end of our Ford Escape vs. Toyota RAV4 comparison, the 2018 Ford Escape reigns supreme. With its superior performance, impressive towing capability, and advanced technology, the Escape stands to be the ideal crossover for drivers in the Geneva, Canandaigua, Auburn, and Rochester areas.
To truly understand everything the 2018 Ford Escape can do, come down to Friendly Ford to experience it for yourself. Our expert staff will be standing ready to help however they can. Contact us online to set up your test drive!