The single best thing you can do for your vehicle is keep up with routine maintenance. Your vehicle is subjected to a lot of stress over time, especially if it's used for towing or recreation, like the Ford Explorer, and it needs the appropriate care to stay in peak condition.
At Friendly Ford, we want to do all we can for our customers in Geneva, Canandaigua and Rochester. To help you stay on top of your vehicle's maintenance, we've compiled this Ford Explorer maintenance schedule.
Basic Service
At the 5,000-mile mark, your Ford Explorer will begin to experience the first signs of wear and tear. To avoid major repairs in the future, a few services should be performed at a local service center.
This is time for an oil change, a tire rotation and a multi-point inspection of your Explorer. You should also check the condition and wear patterns of your tires, set the tire pressure to the appropriate PSI, inspect your exterior light bulbs, inspect your brake components, check your fluid levels and refill any that are low and check the installation of your floor mats.
By doing this, you can stay ahead of any potential problems and ensure that your Explorer is running properly.
Intermediate Service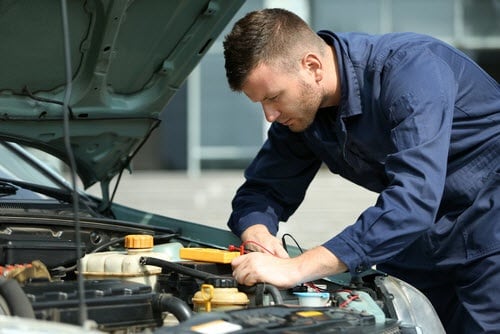 At the 15,000-mile mark, your Explorer will need all the basic services, plus a more thorough inspection of some additional components.
This is the time to inspect the condition of the drive axle boots, check the brake fluid, check the transfer case and differential fluids, inspect the brakes and brake components, inspect the exhaust system and check the air filter, wiper blades and cabin air filter. You should also lubricate the propeller shaft, inspect the fuel lines and charcoal canister and check the operation and fluid levels within the coolant system to ensure it's working properly.
Many of these systems will only need these services every 15,000 miles, but it's important to remember that extreme driving conditions and excessive work may require earlier inspections or service.
Major Service
At the 30,000-mile mark, your Explorer will need all the services from the basic and intermediate intervals performed, as well as a few additional services.
If your air filter and cabin air filter haven't been replaced by this point, they need to be. You should also inspect your ignition wires and distributor cap and address any concerns from the previous services.
Schedule Your Service Appointment at Friendly Ford
This Ford Explorer maintenance schedule should give you a good idea of what services your vehicle needs throughout its life, but it's important to remember that it can vary. A vehicle that's regularly used for towing, continuous low-speed driving, off-roading or other extreme conditions will experience more wear and tear, which means that it may also need to be inspected and serviced more frequently. Fortunately, this basic maintenance schedule will help you identify any areas in which your Explorer may need more frequent care.
If you're in Geneva, Canandaigua or Rochester and it's time for your Ford Explorer's maintenance, call or visit Friendly Ford to speak with our service technicians and schedule your service appointment. Contact us today!