SUVs are among the most popular classes of cars now, and drivers in the Geneva, Canandaigua, Auburn and East Rochester areas have taken notice. SUVs offer storage space for cargo and passengers, a higher viewing angle to see more on the road and overall style to any drive. They've become standard for large families and adventurers alike.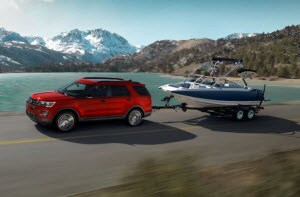 Whether you want an SUV for your family, your adventure or any other reason, choosing one can be difficult. With so many on the market, determining which one is best for you can be quite the challenge. With this handy comparison, we at Friendly Ford are going to put two of the best SUVs up against each other. The 2017 Ford Explorer and the 2017 Honda Pilot both have plenty to offer, but which one is best for you?
Storage Capacity
Both of these SUVs can haul plenty of people around, but which one has the greater cargo capacity? Both easily surpass 80 cubic feet with the seats down, but if you need to carry cargo in addition to passengers, you will want the 2017 Ford Explorer. The 2017 Honda Pilot only features 16 cubic feet of cargo volume while the Explorer has 21 cubic feet. With a degree of difference that large, the victor is clear.
It's important to be able to store cargo and carry passengers, but how comfortable are they? The Ford Explorer features 41.4 inches of headroom for the front passengers along with 42.9 inches of legroom. The people in the back will also be able to enjoy more legroom with 33.3 inches compared to the Honda Pilot's 31.9 inches.
Explorer vs Pilot: Performance
SUVs are big and intimidating. That look comes with functioning as well. Both of these vehicles can perform well, but one outdoes the other. In terms of horsepower, the 2017 Ford Explorer exceeds even the top level 2017 Honda Pilot, with its base model featuring 290 horsepower while the Pilot only gets 280 horsepower in its top trim. Meanwhile, the Explorer can pull up to 365 horsepower in its top trim level, furthering the divide.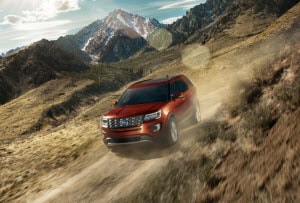 Sometimes you need to tow some extra cargo, and SUVs can help with that if you don't have a big truck. These two SUVs can safely pull 5000 pounds, but be careful with the Pilot. The 5000 pounds limit is only true for certain trims. For the LX, for example, the towing capacity is only 3500 pounds.
Safety in Ford and Honda
You know that either of these SUVs can get you where you want to go, but which one is safest? If you plan on using your SUV with your family, you need to be sure that they're safe. According to crash test ratings, both have an overall five-star rating, but the details make all the difference. They both got four stars for rollover rating, like almost every SUV, but the Honda Pilot also got a four for frontal crash rating. The Ford Explorer, on the other hand, received a perfect five stars in that category.
If you plan on going off-road, you need to make sure your SUV is capable, otherwise you might hurt yourself. The 2017 Explorer fortunately lives up to its name by offering a terrain management system. With this system, you can set the AWD to preset terrains like sand, snow, mud, grass and more. The 2017 Pilot offers no similar feature.
Ford Explorer vs Honda Pilot: The Verdict
At the end of the day, the 2017 Ford Explorer comes out as the superior SUV. With its versatile functionality, impressive safety features and spacious interior, the Explorer sets itself apart as one of the best SUVs available. For those in the Geneva, Canandaigua, Auburn and East Rochester areas, we are excited to show you the 2017 Ford Explorer at Friendly Ford.
Friendly Ford is dedicated to presenting you with a satisfying experience. Our expert team is eager to offer you all the knowledge and help you need to find your perfect vehicle. Whether you want to test drive the Explorer or one of the many other vehicles in our expansive inventory, Friendly Ford invites you to experience it for yourself. Visit us or contact us online to schedule your test drive today!