Pickup truck drivers in the Geneva, Canandaigua, Auburn, and Rochester areas work hard for a living, so they deserve a truck that works just as hard for them. Finding the right truck for your needs can be difficult, however, since there are so many to choose from. Just about every other manufacturer out there has one on the market now.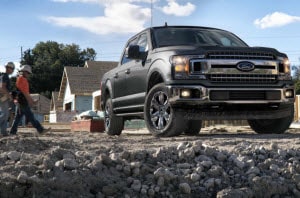 The 2018 Ford F-150 and the 2018 Chevy Silverado 1500 are two of the best options available, but which one is best for you? We want you to be an informed consumer, so we've put together a handy Ford F-150 vs. Chevy Silverado comparison for you. Learn the differences between these two powerful pickups and discover which is best suited for your needs.
Ford vs Chevy: Performance
No matter if you choose the F-150 or the Silverado 1500, you can enjoy at a powerful V6 engine.
Inside the 2018 Silverado 1500, you'll find a 4.3L V6 that cranks out 285 horsepower and 305 lb-ft of torque. As if that wasn't enough power, you can also opt for the available 6.2L V8, which delivers an astounding 420 horsepower and 460 lb-ft of torque.
Not satisfied with the Silverado's power outputs? No worries-the 2018 F-150 has you covered. Its base model also generates profound power, thanks to its 3.3L V6 engine, which produces 290 horsepower and 265 lb-ft of torque. Not enough? Well, then meet the high-output 3.5L V6 engine of the F-150 Raptor. With this engine equipped to this Ford truck, you'll generate a massive 450 horsepower and 510 lb-ft of torque. Then, you'll be able to glide down the highway, no matter if you're hauling a boat or camper.
Plus, both the Ford F-150 and Chevy Silverado 1500 are paired with standard 6-speed transmissions, so you not only have a dynamic driving experience, but a smooth one as well.
Capability & Towing Capacity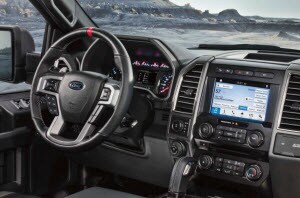 When you buy a truck, you should expect it to be able to pull its weight-or, in this case, pull quite a bit more. Each of these pickups have impressive towing capacities, but nothing in its class can beat the 2018 Ford F-150. The Silverado's massive 12,500-pound towing capacity is certainly impressive, but it doesn't beat the F-150. With the Ford F-150, you can tow up to 13,200 pounds-and that's just the beginning.
The Ford F-150 has plenty of smart towing features to help you haul your cargo with ease. From the Blind Spot Information System and dynamic hitch assist with line-of-sight guide to the smart trailer tow connector, you'll have a myriad of features to assist you with towing. The Silverado also has helpful features, but they're not as extensive as the F-150.
Chevy vs Ford: Technology
The F-150's dedication to superior towing is seemingly unending. While both the 2018 Ford F-150 and the 2018 Chevy Silverado 1500 feature trailer sway assist systems, the Ford F-150 is home to another class-exclusive. The Pro Trailer Backup Assist™ allows you to directly control the trailer yourself. With just a simple turn of a knob, you can physically turn the trailer whichever direction you turn it making backing up with a trailer easier than ever before.
Both the F-150 and the Chevrolet Silverado 1500 allow you to remotely control your truck through FordPass™ and Chevy MyLink®, respectively. From your smartphone, you can lock your doors and even start your engine. However, only the F-150 allows you to schedule a time for your engine to start so it's ready when you are every morning.
Ford F-150 vs Chevy Silverado 1500
At the end of our close Ford F-150 vs. Chevy Silverado 1500 comparison, the 2018 Ford F-150 reigns supreme. With best-in-class towing, torque, and the class-exclusive Pro Trailer Backup Assist™, nothing can truly compare to the F-150. Experience for yourself what this pickup truck can do for you by visiting Friendly Ford. We invite all local Geneva, Canandaigua, Auburn and Rochester drivers to take the 2018 Ford F-150 for a spin.