Pickup truck drivers in the Geneva, Canandaigua, and Rochester, NY, area work hard for a living, so they deserve a truck that works just as hard for them. There are many options when it comes to choosing your next ride, so Friendly Ford wants to help you narrow down the search. With powerful engines and impressive towing capacities, the 2020 Ford F-150 and the Chevrolet Silverado 1500 are two of the most desirable options available.
But which of these pickups is best for you? We want you to be an informed consumer, so we've put together a handy comparison of the Ford F-150 and the Chevy Silverado 1500. Read through to learn about the differences between these two powerful pickups and discover which truck may be better suited for your needs.
---
High-Performing Engines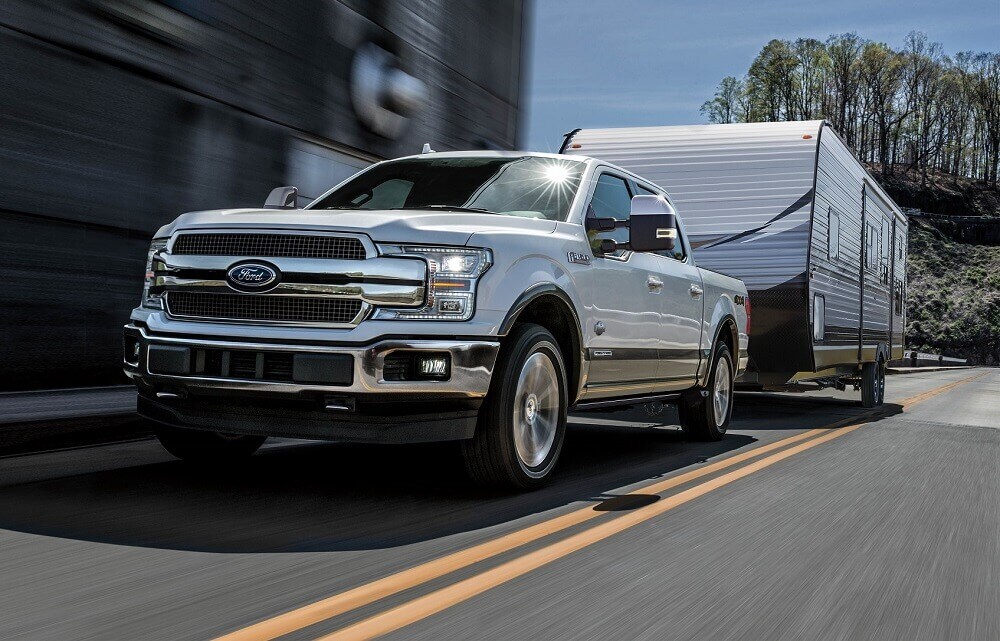 No matter if you choose the Ford F-150 or the Chevy Silverado 1500, you can enjoy a standard 6-speed transmission paired with a powerful V6 engine to help create a smooth and dynamic ride. Despite these similarities, though, there are some distinctions when it comes to power output that may make a difference when it comes to handling.
Under the hood of the Silverado 1500 you'll find a 4.3-liter EcoTec3 V6 engine cranking out 285 horsepower and 305 lb-ft of torque. As if that weren't enough power, you can also opt for the available 6.2-liter EcoTec3 V8 engine that delivers an astounding 420 horsepower and 460 lb-ft of torque.
Not satisfied with the power output on the Silverado 1500, though? The 2020 Ford F-150 has you covered. Its base model also generates profound force thanks to its 3.3-liter V6 engine that produces 290 horsepower and 265 lb-ft of torque. Still not enough? Well, then, meet the High-Output 3.5-liter V6 EcoBoost® engine equipped on the Ford F-150 Raptor. With this engine, you'll generate a massive 450 horsepower and 510 lb-ft of torque that allows you to glide down the highway-even when hauling a boat or camper.
---
Tow with Ease and Confidence

You may be considering a truck to help you bring your work trailer or take your boat to the lake on the weekends. In that case, each of these pickups has impressive towing capacities to help get the job done.
In order to create supreme hauling power, you'll need an engine with ample power and muscle. The F-150 and Silverado 1500 each offer six engine options under the hood, each one with its own unique perks. For example, if you're looking for added fuel economy to help you stay on the road longer, you may be interested in a diesel engine option.
Both trucks have diesel powertrains to entice you, but you may prefer the one in the Ford F-150 since it earns a maximum towing capacity of 11,500 pounds. The diesel motor in the Silverado 1500, on the other hand, can only take on trailers up to 9,300 pounds, so you may have to leave your camper behind.

When properly equipped, though, the 2020 Ford F-150 and the Chevy Silverado 1500 can each tow over 13,000 pounds to help you bring along some of the following equipment:
A 2-horse trailer for an out-of-town show
A water ski or large fishing boat to Seneca Lake for an afternoon on the water
A race-car-hauling box trailer for a thrilling weekend
A large camper for a mountain escape
---
Added Technology for Simplified Hauling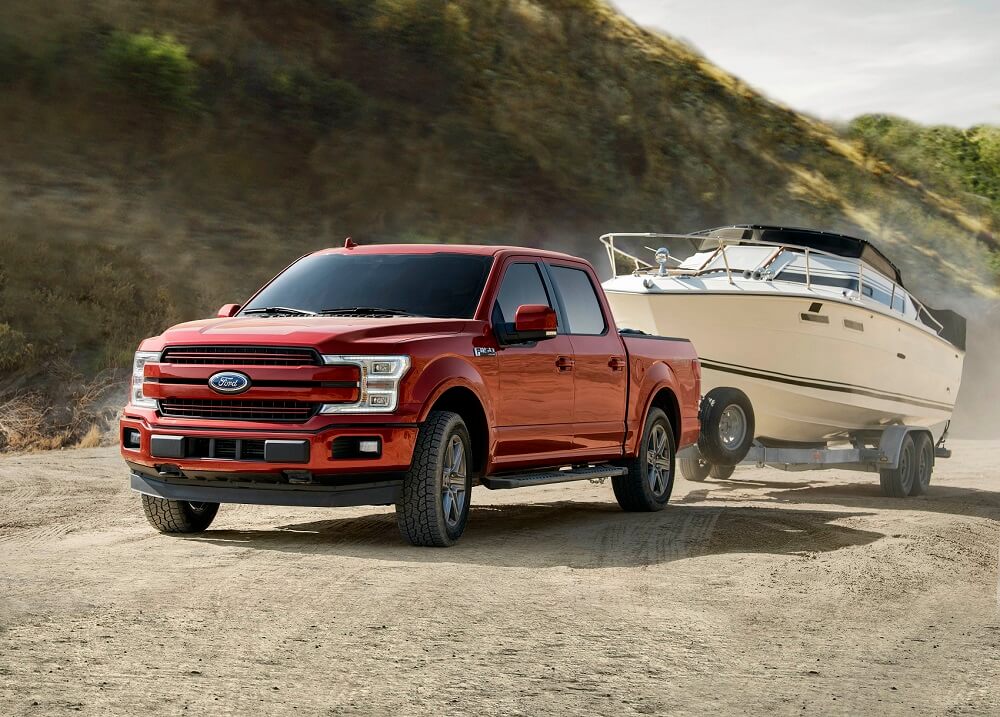 With a towing capacity of this size, there's little the F-150 can't handle, but that's just the beginning. The Ford F-150 is equipped with plenty of smart towing features to help you haul your cargo with ease. Trailer sway control comes standard to apply the brakes and reduce engine power, helping you stay on track.
To make navigating in and out of worksites and campgrounds easier, the F-150 can be equipped with a 360-Degree Camera with Split-View Display. It places cameras all around the exterior on the grille, tailgate, and under each sideview mirror to provide you with a comprehensive bird's-eye view of your surroundings. This system helps you monitor obstacles and make hitching up easier with a dynamic hitch assist feature that provides you with a sight line to gently guide your hitch ball into the trailer tongue.
Pro Trailer Backup Assist™ is available as well to help you easily hook up your trailer to your F-150 and hit the road faster. This high-tech system also allows you to simply turn a knob to direct your trailer when you're backing up.

While the Chevy Silverado 1500 does offer trailer sway control, it doesn't have such an advanced system as Pro Trailer Backup Assist™ to aid with parking your 25-foot camping trailer safely and securely. Additionally, the comparable Surround View camera that provides a 360-degree view of your surroundings doesn't offer a dynamic hitch assist to hitch up quickly and hit the open road.
---
Leave Nothing Behind
In addition to being able to tow, you're going to need ample space in the bed of your truck for all your building materials and weekend cargo. The 2020 Ford F-150 and Chevrolet Silverado 1500 each offer three bed length options, so you can choose the one that best matches your specific needs.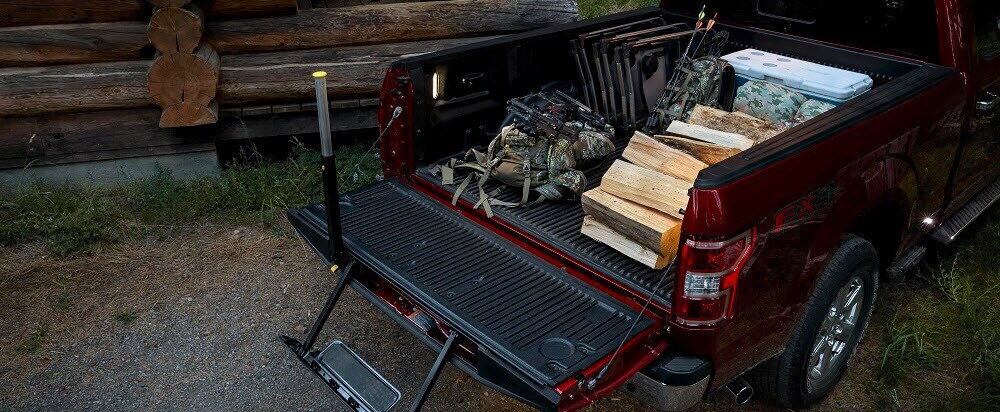 With a maximum cargo bed length of over 90 inches on both pickups, you'll be able to throw plywood and sheet metal in the back and head out to your next construction project.
Despite these similarities, the F-150 makes way for bulkier equipment with a maximum payload capacity of 3,270 pounds. This much capability is perfect for throwing some ATVs or a riding lawnmower in the bed, which you may not be able to do with a maximum payload capacity of 2,302 pounds in the Silverado 1500.
---
Safety Features for Greater Peace of Mind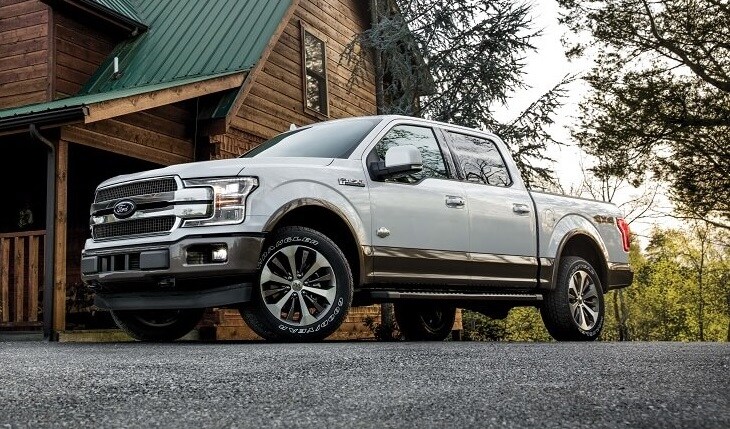 When taking your camper out for an exciting weekend getaway, you'll want to arrive at your destination safely. The safety technologies found in these trucks are designed to give you greater peace of mind when traversing busy highways.
The 2020 Ford F-150 and the Chevy Silverado 1500 offer the following systems to help keep you protected:
BLIS® (Blind Spot Information System) with Trailer Coverage: Keeps an eye on your side blind zones and lets you know when another vehicle is traveling alongside. It also automatically accounts for the length of your trailer, so you stay safer even with your camper in tow.
Pre-Collision Assist with Automatic Emergency Braking: Measures the distance between you and frontal obstacles and warns when you're following too closely. If needed, it applies the brakes to help you avoid a frontal collision altogether.
Lane-Keeping System: Detects and warns you of unintentional lane sway to help you stay firmly on track.

However, when it comes to Adaptive Cruise Control with Stop-and-Go, you'll only be treated to this technology in the F-150. This advanced feature is designed to make long drives easier by maintaining a set cruising speed and following distance-a comfort you're not afforded with the Silverado 1500.
---
Applications Designed to Make Life Easier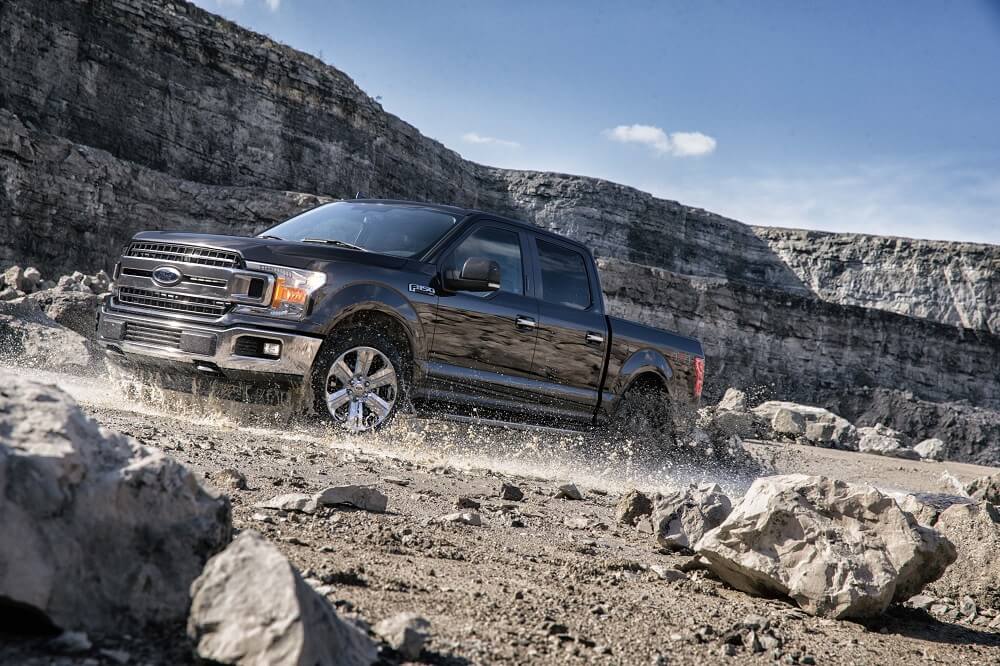 Both the 2020 Ford F-150 and the Chevrolet Silverado 1500 feature applications to help you stay connected with your truck and make life a little easier. Through the FordPass™ App and the myChevrolet Mobile App, you can remotely lock and unlock your doors as well as locate your vehicle when you've parked in a busy parking lot. From these applications, you can also schedule your next service and get vehicle health alerts reminding you to check specific engine components at certain mileage markers.
FordPass™ has a leg up on the competition by allowing you to schedule a time to start your engine, so you can enter a nice warm cabin on snowy winter mornings. Unfortunately, this feature's not available with the myChevrolet Mobile App, which may leave you out in the cold.
---
2020 Ford F-150 vs Chevy Silverado 1500: Test Drive the Winner!
The competition was close, but the 2020 Ford F-150 clearly sails ahead. When it comes to engine performance, towing capacity, safety amenities, and technological features, the Chevy Silverado 1500 just couldn't keep up with the F-150.
Now that you've read about why the Ford F-150 may be the better option, the next step is to take it for a spin. Visit the showroom at Friendly Ford to meet with a member of our sales team who'll explain even more features with this impressive pickup. Then, we'll listen to your wants and needs to match you with the right trim level for you.
Our hardworking neighbors around Geneva, Canandaigua, and Rochester, New York, can stop by our dealership today to take the 2020 Ford F-150 out for a test drive! Contact us online today!