What happens when you have two great powerhouses of pickup trucks, and you can't decide which one to choose? Yes, we're talking about the 2018 Ford F-150 vs the 2018 Toyota Tundra.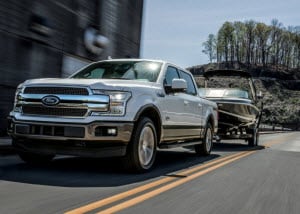 For drivers in Geneva, Canandaigua, Auburn, and Rochester, buying a new pickup truck is certainly exciting. However, researching it isn't always the most fun part. That's why our team at Friendly Ford has taken over the research for you and come up with this vehicle review.
Let's get started…
Ford vs Toyota
This year, the Ford F-150 gets a lot of upgrades and changes. The biggest is in the engine lineup. First, the standard engine is now a 3.3-liter V6 which is more powerful than before. Next, the other V6 and V8 engines get upgrades to squeeze more power out, and giving you a new 10-speed automatic transmission at the upgraded engine levels. Vehicles also come with automatic start-stop function to save on gas. Finally, there's a tweak to the look of the truck, and you get upgraded frontal crash mitigation.
The Tundra, on the other hand, gets the Toyota Safety Sense package which gives you a number of safety features that weren't available before. Other than that, it's mostly revised styling you'll see on the Tundra. In the end, while Ford is upgrading its existing safety technology, Toyota is playing catchup and adding important tech that didn't exist before.
Performance
In terms of performance, the basic fact of the matter is, Toyota can't keep up. Ford offers a whopping five different options for engines, while the Toyota only comes with two V8 engine options. While the base V8 does put out more than the Ford's base V6, the Ford's turbo V6 puts out more than the Toyota's V8 (325 hp and 400 lb.-ft. of torque vs the Toyota's 310 hp. And 327 lb.-ft. of torque).
At the top of the range, Toyota offers a 5.7-liter V8 which gives you 381 horses and 401 pound-feet. The Ford's top engine gives you a whopping 450 horses and 510 pound-feet, and even it's second-to-top engine gives you 470 pound-feet of torque.
In terms of sheer choices as well as basic performance, Ford wins out.
Towing Capacity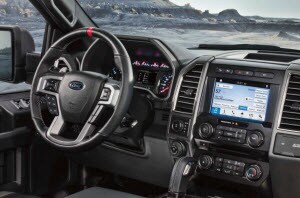 Toyota can't even dream of standing up next to the towing capability Ford has to offer. Properly equipped, the Ford F-150 can boast a maximum towing capacity of an astounding 13,200 lbs., not just best in class, but the first half-ton pickup to achieve this level. The Tundra, on the other hand, has a maximum towing capacity of 10,100 pounds. Since towing and hauling are key to pickup performance, why go with the lesser truck?
Test Drive the Ford F-150 at Friendly Ford
Now that you've gone over what's offered in both the 2018 Ford F-150 and the 2018 Toyota Tundra, you can narrow down what's important to you in your next pickup truck. However, with the F-150's awesome strength and safety features, we think it's worth giving a test drive.
Our team at Friendly Ford would be happy to answer any questions you have regarding the 2018 Ford F-150. Contact us today!