Your Ford F-250 is a tough pickup that's subjected to a lot of stress and wear and tear. Because of this, it's important that you keep up with your F-250's recommended maintenance and service so it can perform its job effectively and stay in top condition.
We want the best for our local customers in Geneva, Canandaigua and Rochester, which is why the team at Friendly Ford put together this handy Ford F-250 maintenance schedule to help you keep up with your F-250's service needs.
Engine Oil
Engine oil changes are one of the most important aspects of your vehicle's maintenance. That said, it can be difficult to know exactly when that should occur, since it varies based on factors like the driving conditions and workload that your truck endures.
Generally, the engine oil change interval is between 5,000 and 10,000 miles. If your F-250 is regularly used as a tow vehicle and frequently subjected to heavy hauls, it's best to stay closer to the 5,000-mile mark. You should also make it a habit to check the engine oil level and condition on a regular basis, as well as before a particularly difficult job or a long drive.
Transmission Fluid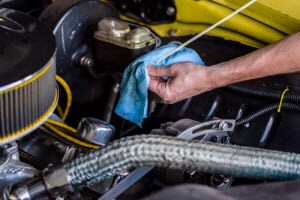 Transmission fluid is important for keeping vital components lubricated and cooled. Your transmission fluid should be checked with every oil change, before heavy hauls and before long drives to ensure it's in good condition.
Your transmission fluid will need to be changed every 30,000 to 50,000 miles, depending on your truck's workload. If the transmission fluid is dark, burned or has particles and debris in it, it may need to be cleaned more frequently.
Engine Coolant
Your engine coolant keeps your engine from overheating, which can cause permanent damage and costly repairs. Your coolant level and condition should be inspected with each oil change, before heavy towing and long road trips.
The interval for changing your coolant varies widely with your driving conditions. Regular inspections of the level and condition will help you determine your coolant's interval, but if you tow often or put an unusual level of stress on your truck, you may want to change it more frequently. Ford recommends that your coolant be replaced after 100,000 miles, then every 50,000 miles for the life of the truck.
Tires and Brakes
Along with your oil change, your tires should be rotated and checked for unusual wear and proper tread depth. Uneven tread wear could indicate that you need an alignment, as well as a possible replacement of any suspension components that were affected by the misalignment. Low tread simply means you need to replace your tires.
Your brake fluid should be checked with your oil change as well and replaced if necessary. This is also a good time to inspect your brake components and service any parts that appear to be worn or damaged.
Schedule Your Service Appointment at Friendly Ford
We hope that our Ford F-250 maintenance schedule helps you stay on top of your truck's recommended service intervals, so it can stay in top form for as long as possible.
If you're in Geneva, Canandaigua or Rochester, and it's time for your Ford F-250 maintenance, stop by Friendly Ford to schedule your service appointment today!