A super duty truck is a vehicle built for tough job sites and is a great choice for consumers from Canandaigua, Geneva, and Rochester looking for a vehicle with outstanding power and utility. While there are several worthwhile models in the super duty class, two of the leading vehicles are the 2018 Ford F-350 and the GMC Sierra 3500HD.
Because choosing the right truck for you is such an important decision, we've compared the Ford F-350 and the GMC Sierra 3500HD head-to-head so that you can more easily decide which of these trucks meets your needs.
Big Towing Capability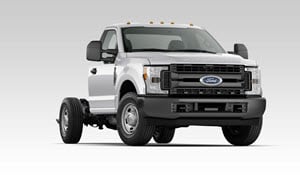 One of the biggest benefits of owning a super duty truck is that you'll have the ability to haul heavy loads with ease. To make sure you have the towing ability you want and need, it's best to compare the maximum towing capacities of both the Ford F-350 and the GMC Sierra 3500HD.
If you opt for the GMC Sierra 3500HD and choose either a gooseneck or fifth-wheel hitch and equip this truck with the proper engine, you'll have an impressive maximum towing capacity of 23,100 pounds. If you want even more towing ability, however, you should choose the Ford F-350. By equipping the Ford F-350 with a gooseneck hitch, you'll have a maximum tow rating of 34,000 pounds guaranteeing you'll be able to haul the heaviest loads possible.
Choosing the Right Engine
Engine power is another important component of picking a super duty truck. With the right engine, you'll have the power you need for both towing and driving. As you would expect, both the 2018 Ford F-350 and GMC Sierra 3500HD offer powerful engines, but there are some differences to consider.
The GMC Sierra 3500HD offers several engine options, but the most powerful is the Duramax 6.6L V8 Turbo Diesel engine that outputs 445 horsepower and 910 lb-ft of torque. With the F-350, you'll be able to choose a 6.7L PowerStroke Turbo Diesel V8 engine that provides 450 horsepower and 935 lb-ft of torque, making this truck the best choice for drivers that want as much engine power as possible.
Super Duty Safety Technology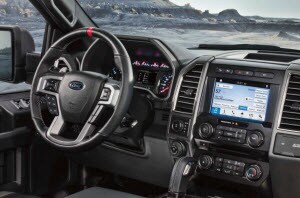 Whichever of these two super duty trucks that you'll choose, you'll have access to a variety of intuitive features that make driving easier and safer. Both trucks, for instance, offer rearview camera systems that simplify the process of linking your truck to your trailer.
With the GMC Sierra 3500HD, you'll have features that will help you avoid accidents, including Forward Collision Alert and Lane Departure Alert. If you want features that make trailering safer, however, you need to drive the Ford F-350, which is available with a Blind Spot Information System with Cross-Traffic Alert and Trailer Tow. This system covers both your truck and your trailer, making you that much safer while you're behind the wheel.
Take a Test Drive at Friendly Ford
The super duty class features some of the toughest vehicles on the road, including the outstanding Ford F-350, which proved itself against the GMC Sierra 3500HD as the top model in this segment. If you want to find out why the 2018 Ford F-350 is the right truck for you, schedule a test drive today at Friendly Ford. We can tell you more about this vehicle and explain why it's a great choice for drivers throughout Rochester, Geneva, and Canandaigua.