The small sedan sector is crowded with vehicles these days. Some manufacturers go for utility and economy; others go for sleek looks and performance-based tuning. There are, however, those in the middle, who look to versatility, a great balance of sporty looks and solid performance. Ford and Chevy are among those seeking to create an outstanding all-around vehicle in the Fusion and Malibu, respectively.
Each of these vehicles seeks to offer something for everyone in the Rochester, Geneva, Auburn, and Canandaigua area. But how do they measure how do they compare to one another in the process? Let's examine a side-by-side comparison of how the 2018 Ford Fusion and the 2018 Chevy Malibu from the team at Friendly Ford.
Ford vs Chevy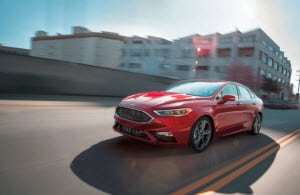 Both the 2018 Ford Fusion and the 2018 Chevrolet Malibu carry over largely unchanged from last year's model. The Malibu adds a new Redline Edition, but its features are solely appearance-based. Both are competitive vehicles in the sector. The Malibu boasts lots of interior room and plenty of technology options, as well as two engine choices.
The Fusion, on the other hand, has a comfortable and spacious interior, plenty of technology that's user friendly, and solid driving, as well as a luxurious interior cabin and a ton of available active safety equipment options. There are also a selection of several engines for outstanding performance. Let's see how each vehicle adds up.
Performance Ratings
When it comes to performance, the Ford Fusion handily wins out. The Chevy Malibu has only three engines, the first of which is a base 1.5-liter four cylinder that gives you 160 horsepower and 184 pound-feet of torque, matched with a six-speed automatic. At the Hybrid level, you get a 1.8-liter four which gives you 182 horses and 277 pound-feet. Finally, at the highest level the premier gives you 250 horses and 260 pound-feet through a 2.0-liter four.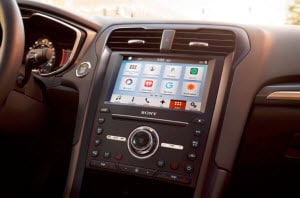 The 2018 Fusion, on the other hand, has four different engine choices. The entry level engine, a 2.5-liter four-cylinder, gives you 175 horsepower and 175 pound-feet. The next step up is a 1.5-liter turbo four which gets 181 horses and 185 pound-feet. After this comes a 2.0-liter turbo four with 240 hp and 270 pound-feet. Finally, the top level engine is a V6 turbocharged engine with 325 horses and 380 pound-feet of torque.
While the second level (Hybrid) engine of the 2018 Malibu gets more power than the second-level Fusion, the other Ford engines outperform the Malibu, especially at the high end, where Chevy doesn't even offer a V6. 
Technology
Chevy's technology is driven by the MyLink infotainment system with 7-inch touchscreen, not available at the base level trim, which only comes standard with Bluetooth and six speaker audio. The Fusion, on the other hand, is driven by Ford Sync with voice commands and has Bluetooth, smartphone app integration, CD player, USB interface and audio jack at the base level. Stepping up to the Technology Package gives you the full Sync 3 infotainment system with 8-inch touchscreen. Ford wins out on technology as well.
Drive the Fusion at Friendly Ford
If you'd like to test drive the 2018 Ford Fusion in Geneva, Auburn, Canandaigua, or Rochester stop into Friendly Ford today or schedule a test drive online.