When you cruise the streets of Geneva, Canandaigua, Auburn, and Rochester, you deserve to drive a car that can offer the latest performance advancements and features. The best option is probably a sedan, but the sedan market is incredibly competitive, so finding the right one for your needs can be difficult.
The 2018 Ford Fusion and the 2018 Toyota Camry are two of the best options available. Both have a lot to offer, but which one is right for you? Learn more about the differences between these two sedans, and find out which is best in our Ford Fusion vs. Toyota Camry comparison from the team at Friendly Ford.
Performance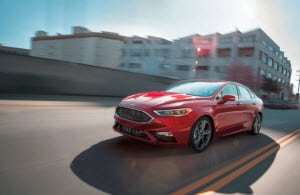 When you drive a premium sedan, you should expect an enjoyable driving experience. Luckily, both sedans can deliver on that front, but the Fusion tends to have more power.
Equipped with a standard 2.5L Duratec engine, the Ford Fusion can deliver a powerful punch, even for its base model. With 175 horsepower and 175 lb-ft of torque, you'll be cruising down the highway. For even more power, you can opt for the 2.7L EcoBoost® V6, which can deliver an astounding 325 horsepower and 380 lb-ft of torque. Paired with a 6-speed SelectShift® Automatic Transmission, you'll never experience a more dynamic yet smooth ride.
Although the Toyota Camry comes with some suitable engines, like its standard 2.5L DOHC engine, it can't beat the power stored inside the Ford Fusion. Even its top engine, a 3.5L V6, can produce only 301 horsepower and 267 lb-ft of torque.
Interior
Inside the Ford Fusion, you'll find plenty of room for passengers and cargo. Relax while driving with a generous 39.2 inches of headroom and 44.3 inches of legroom. The Toyota Camry is fairly spacious as well, but its 37.5 inches of headroom and 42.1 inches of legroom can't truly compare.
If you're more interested in cargo space, the Fusion can offer plenty with its 16 cubic feet of trunk space. The 2018 Camry falls short again only offering 15.1 cubic feet. Overall, the 2018 Fusion is more spacious in just about every area even though it's over ten inches wider and slightly taller than the Camry.
Technology
With so many sedans on the market, one of the best ways to see the difference is to look at the technology. You'll find high-definition touchscreens inside most modern sedans, but the 2018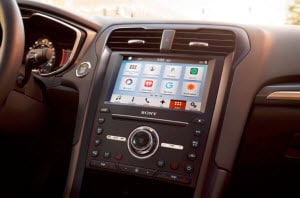 Ford Fusion's and 2018 Toyota Camry's infotainment systems are incredibly advanced. The SYNC® 3 and Entune™ both allow for smartphone connectivity and access to your favorite apps.
The main difference is with the remote control. With the Fusion's FordPass™ app and the Camry's Remote Connect, you have access to your car, even when you're not in it. However, the Remote Connect is limited to monitoring and controlling temperature, while the FordPass™ allows you to remotely lock and unlock your doors and even start your engine.
Ford Fusion vs Toyota Camry: Our Verdict
While the competition was close in our Ford Fusion vs. Toyota Camry comparison, the 2018 Ford Fusion reigns supreme overall. With its numerous advanced features, it stands to be an optimal choice for any driver in the Geneva, Canandaigua, Auburn, and Rochester area. Find out for yourself at Friendly Ford with a test drive. Our knowledgeable team can help you discover if the 2018 Ford Fusion is right for you. Visit us or contact us online to schedule your test drive today.