Your car's wheels are essential components of your automobile-you wouldn't be able to drive without them! When they're in stellar condition, they make certain you experience smooth trips for miles ahead. Since your car's tires are what connects your car with the pavement, they are at risk for potential damage from pot holes to debris scattered on the road. At any time, you may have an issue with the tires, but do you know where you'll drive for the best tire service in Geneva?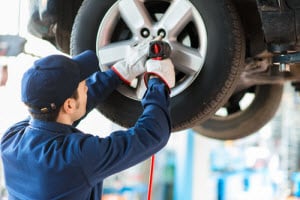 Inside the Friendly Ford repair department, we are known for efficient tire service and are equipped to handle virtually any issues you are experiencing. We're invested in having you drive off along with a set of tires which work perfectly for your vehicle. Our informed team of motor vehicle specialists can correctly detect an array of tire concerns and go through the crucial process to repair them. Keep reading to learn some of the tire difficulties we focus on resolving.
Tire Rotations
It's unavoidable that tires will wear down. Fortunately, making certain they wear down consistently will help increase their life time. Inconsistent tire wear will lead to requiring a brand new set. Nevertheless with tire rotation work, you can be sure that the car's tires are improving their potential.
Tire Balancing
It's easy for car tires to become unbalanced. Potholes or driving on a sharp curb are among the most frequent reasons for tires becoming imbalanced, and consequently one or several tires will be heavier when compared to the other tires. These heavier tires affect your car's drive due to their irregular spinning, which may cause oscillation, wobbling, and even loss of grip while driving.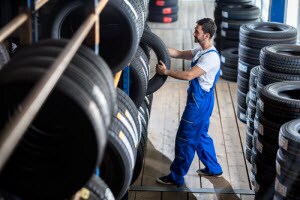 Tire balancing solutions consist of adding weight to the appropriate tires so there's consistency among them. This effortless method ensures even rotation, which means that your performance will return to the smoothness you expect and deserve.
Tire Repair
The tire servicing department at Friendly Ford is able to assist individuals with just about any tire servicing in Geneva. Whether you have a flat tire or a tiny hole, we're able to fix it or change your deflated one. If you are encountering a loss in traction on the street, bring your automobile and we can set you up with some retreading. All your common tire problems are often treated from the dedicated specialists at the Friendly Ford service department.
When you need tire repair in Geneva, you will find the knowledgeable care and solutions you want at the service center at Friendly Ford. Carried out by our proficient associates, we can undertake any sort of tire issues, which could be restricting your chance to drive correctly. Our mission is absolute client satisfaction, and we'd like to note that the drivers who leave our service center always have a great set of new tires.
Find out about our service packages and schedule your next service appointment with the Friendly Ford repair center.