Six Time President's Award Winner | Friendly Ford
We have some great news for our beloved customers and friends: Friendly Ford is a part of the select group that's been chosen for the highly coveted 2022 President's Award!
This prestigious award is given to dealers that show the highest level of customer service, satisfaction, and overall experience in both sales and service. The President's Award is only given to 340 dealers across the nation from some 5,000+ Ford dealers.
Friendly Ford won the 2016 Presidents Award for the first time in its 10 year history in 2017 and has continued their commitment to providing the community with the best possible sales and service of any dealer, no matter the brand. Friendly Ford would like to thank every customer who helped make this possible again! We will continue to provide the highest level of customer service to everyone and look forward to continuing to work to earn you business every time.
Thank you and we truly appreciate your business!
2016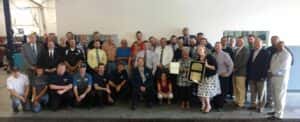 2017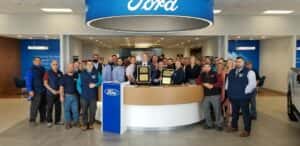 2018

2019
2021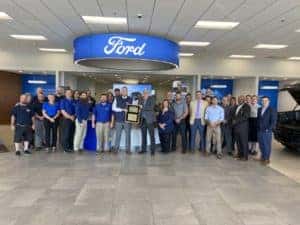 2022
What Is the President's Award?
Simply put, the Ford President's Award is an accolade intended to honor the dealerships with the highest levels of customer satisfaction. Here's some more information.
What does the award's inscription say? "In order to achieve the President's Award, dealers must exceed customer expectations every day in every department. The pursuit of excellence requires passion, tenacity, and hard work."
When was the President's Award created? All the way back in the day: 1998.
How does Ford determine the winners? By analyzing a practical treasure trove of customer survey responses that pertain to their sales and service satisfaction.
Why Did Friendly Ford Win This Year?
Now that you know a lot more about the President's Award, you're probably wondering what Friendly Ford did to deserve such a prestigious recognition. Here's a hint: The answer is a lot.
The most important thing is that we focus on forging a one-on-one relationship with each customer that walks through the doors of our showroom. That means that we want to know about your vehicle history, your driving preferences, and your financial situation; we want to know about your wants, your needs, and your desires; we want to know about your family, your interests, and more.
In other words, our Friendly Ford team treats you like an actual human being, rather than a mere dollar sign or checkbox. After all, that's how we got the name Friendly!
More About the Dealership
This joyous, respectful attitude bleeds over into all our inventories and services.
At Friendly Ford, we feature a new inventory that's comprised of over 250 high-quality vehicles. We also have a used inventory that's complete with cars, trucks, crossovers, SUVs, and minivans from Ford and a variety of other manufacturers.
At Friendly Ford, we've got a top-of-the-line finance center. We've got a comprehensive parts center. We've got a state-of-the-art service center. That's to say that we have anything you could ever need or want from a full-service automotive dealership.
Contact Us at Friendly Ford Today for More Information
If you'd like more information about Friendly Ford's President's Award, our new inventory, used inventory, finance center, parts center, or service center, simply contact us today.
We're here specifically to assist drivers in East Rochester, Auburn, Canandaigua, Geneva, and a few other areas in New York. There are several convenient ways for you to get ahold of us.
You can call us, chat with us on our website, or stop by our showroom in person.